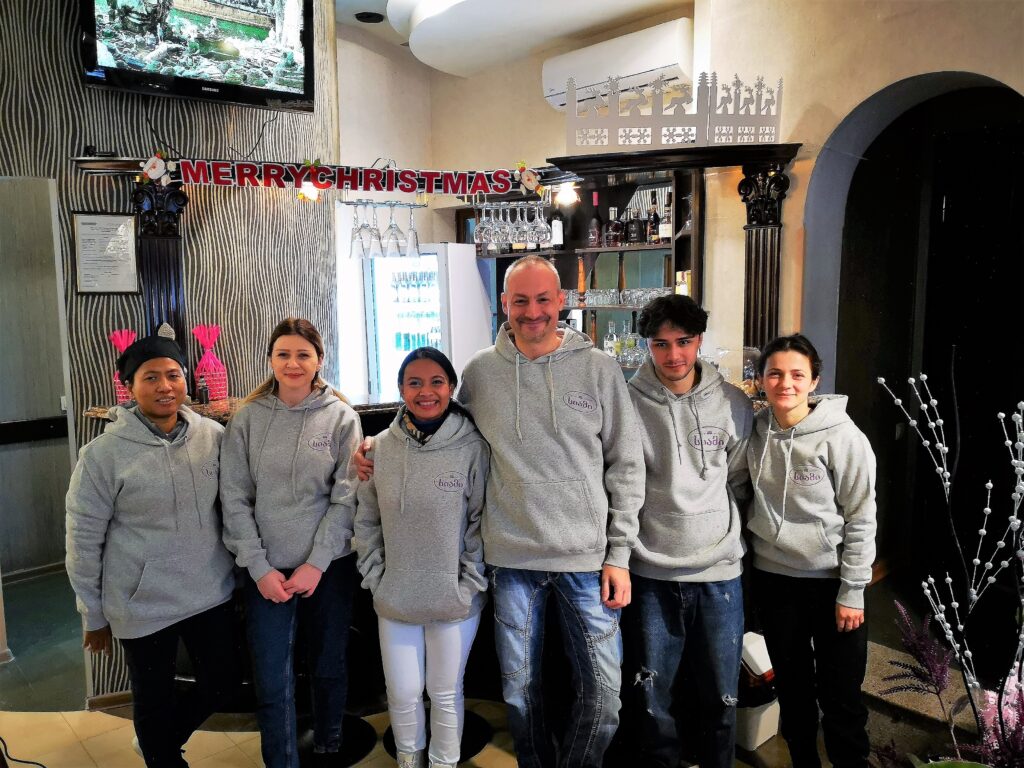 OUR TEAM
from left to right:
Tai/Chef: She loves to cook Thai Food and has always a smile for everyone – she came all the way from Thailand to Georgia just to hep us out in the kitchen!
Vero/Waitress: Her friendly attitude will make you feel very welcome.
Tae/Owner: From Thailand, but living since 2020 in Georgia. She is missing her homecountry and the food, and decided therefore to open the Siam Restaurant. Her funny personality is spreading her good mood to each and everyone!
Floh: The boyfriend of Tae, helping managing the daily business routine.
Tornike/Waiter: His great and professional service will convince you to come back.
Maia/Manager: She is the "good soul" behind the restaurant, handling all ups and downs. Always in good mood, her smile is lighting us up everyday!
Anton Sinatashvili
18. January, 2022.
Delitious food, Friendly staff, gorgeous Chef. The place, where you want to be over and over again. Recomend to everyone, who likes thai food and everything that is super and tremendous. oh, by the way, they have thai tea too, which is very tasty.
Bakuri Babunashvili
12. January, 2022.
ყველას გირჩევთ ეწვიოთ ❤ დღეს გავსინჯე უგემრიელესი სოკოს სუპი
Marita Meparishvili
9. January, 2022.
Do yourself a favor and visit this lovely restaurant in Kutaisi ! We are so fortunate to have this place just a few minutes drive away from home.I enjoyed every single bite of the meal and I had 3 courses of meal.The service is unmatched,the staff trully cares about your experience!I will come back here again and again! ❤️
Mariya Titova
9. January, 2022.
очень вкусно! приятное, доброжелательное обслуживание, теплая атмосфера, вкусные, необычные блюда. обязательно будем посещать ещё и ещё😍
Barbare Tabidze
27. December, 2021.
ყველაფერი უგემრიელესი იყო. უკონკურენტოა 👌♥️
Danil Danil
17. December, 2021.
Amazing food, fantastic people and spirit always calling you to return back in Siam restaurant for another excellent Thai meal! I wish you happy and satisfied clients! 👍👍👍
Jurgen Hoogenraad
16. December, 2021.
Real Thai quality food. Very tasty and reasonable priced with very friendly staff!
Rafal Rajchel
11. December, 2021.
Finally some serious Asian restaurant in Georgia. Great food and atmosphere!
Open daily
Café & Breakfast
08.00 - 12.00
Ask for our separate Breakfast Menu!
Additional Rice
+2
Make your Soup to a Main Course!
Main Courses including Rice
If you like our food, please leave a review on Tripadvisor:
Thank you for visiting us and hope to see you again!
Sailom Aurora
12. January, 2022.
What are we looking for in restaurant: Clan. Lovely staff. Good service 🙂 Lovely owner. The food is delicious and too expensive. Saim Thai restaurant Kutaisi has everything you are looking for.
Terrific wholesome experience. Authentic food (as foodies who spent 8 years in Thailand, we can tell). Tasty dishes, clean, spicy chili! Great hosts. I'm sad we were only able to go once but it's definitely a reason to visit Kutaisi again. See you in the next round!
Janine Benliro
8. January, 2022.
The people are very nice and humble specially the guy who served us and the Chef. The food was very authentic, I had the best Thai food ever. Their chef is originally from Thailand. I loved the crunchiness of the vegetables, the balance of the taste and the friendly service.
Marcin Kwiatosz
3. January, 2022.
Amazing real thai food and super friendly staff. I will come back here many times for sure.
jiff shams
24. December, 2021.
True thai style food. I could not find a good thai restaurant in tblisi also. This was the best..the thai lady cooks really good. Som tam tasted good even without papaya n prawns. Tom yum soup also was good. Overall i was surprised with the outcome and happy to have chosen this place.