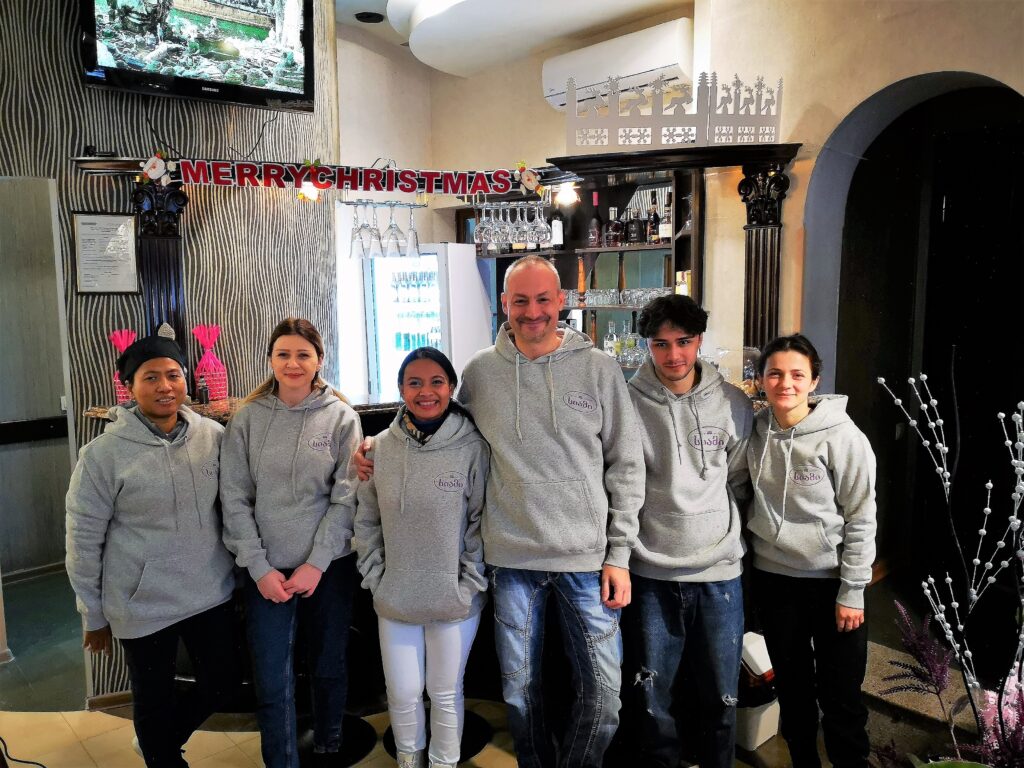 OUR TEAM
from left to right:
Tai/Chef: She loves to cook Thai Food and has always a smile for everyone – she came all the way from Thailand to Georgia just to help us out in the kitchen!
Vero/Waitress: Her friendly attitude will make you feel very welcome.
Tae/Owner: From Thailand, but living since 2020 in Georgia. She is missing her homecountry and the food, and decided therefore to open the Siam Restaurant. Her funny personality is spreading her good mood to each and everyone!
Floh: The husband of Tae, helping managing the daily business routine.
Tornike/Waiter: His great and professional service will convince you to come back.
Maia/Manager: She is the "good soul" behind the restaurant, handling all ups and downs. Always in good mood, her smile is lighting us up everyday!
recommends
It's my absolute pleasure to recommend this restaurant. Extremely delicious Asian dishes and the desserts fresh and awesome. I love the service at the place and the chef is so friendly with the guests and always takes care to offer the best quality. The staff is really what has me coming back. They made us feel welcomed. ♥️
recommends
Delicious and authentic. Definitely recommend ❤️👍
recommends
อาหารไทย รสชาติคนไทย อนะนำที่นี่เลยค่ะ อร่อยมาก เจ้าของร้านน่ารัก ใจดี คนไทยมาที่นี่ แวะมานะคะ รับรองไม่ผิดหวัง♥️
Anton Sinatashvili
2022-01-18
recommends
Delitious food, Friendly staff, gorgeous Chef. The place, where you want to be over and over again. Recomend to everyone, who likes thai food and everything that is super and tremendous. oh, by the way, they have thai tea too, which is very tasty.
Bakuri Babunashvili
2022-01-12
recommends
ყველას გირჩევთ ეწვიოთ ❤ დღეს გავსინჯე უგემრიელესი სოკოს სუპი
Marita Meparishvili
2022-01-09
recommends
Do yourself a favor and visit this lovely restaurant in Kutaisi ! We are so fortunate to have this place just a few minutes drive away from home.I enjoyed every single bite of the meal and I had 3 courses of meal.The service is unmatched,the staff trully cares about your experience!I will come back here again and again! ❤️
recommends
очень вкусно! приятное, доброжелательное обслуживание, теплая атмосфера, вкусные, необычные блюда. обязательно будем посещать ещё и ещё😍
Barbare Tabidze
2021-12-27
recommends
ყველაფერი უგემრიელესი იყო. უკონკურენტოა 👌♥️
recommends
Amazing food, fantastic people and spirit always calling you to return back in Siam restaurant for another excellent Thai meal! I wish you happy and satisfied clients! 👍👍👍
Jurgen Hoogenraad
2021-12-16
recommends
Real Thai quality food. Very tasty and reasonable priced with very friendly staff!
Open daily
Café & Breakfast
08.00 - 12.00
Ask for our separate Breakfast Menu!
ADD RICE
+5
Make your Soup / Appetizer to a Main Course!
MAIN COURSES served with Rice
Our Thai Curries are served with Rice
Please ask your waiter for more vegetarian options!
Most of our Main Courses you can choose also as a vegetarian dish.
If you like our food, please leave a review on Tripadvisor:
Thank you for visiting us and hope to see you again!
Star S
11. September, 2022.
Очень вкусно. Настоящая тайская кухня. Блюда на фото не острые. Рядом лежал измельчённый перец для остроты. Рекомендую это место.
Waleed Alhamdi
10. September, 2022.
احد المطاعم الحلال القليلة الي موجودة في كوتايسي، انصح بتجربته ان كنت تحب الاكل الاسيوي..
Sera Pantillon
6. September, 2022.
Very delicious Thai cuisine ! Some portions are a bit small, others are generous, ask beforehand !
Krystian
3. September, 2022.
Portions are pretty small. Waitress was very friendly and helpful. Pad Thai was a bit dry, I tried this restaurant twice and I think they could improve as it's the only Thai restaurant in the city.
Tasty food and friendly staff. Didn't expect to find a good Thai food in Kutaisi; I was wrong.
Andy Andersen
30. August, 2022.
Good Thai food
Anastasia Alex
29. August, 2022.
Нашли это кафе по отзывам. Все очень-очень вкусно!!! И порции огромные!)) Средняя острота, которую мы заказали, тоже оказалась очень острой. Так что имейте это в виду. Все не съели, попросили забрать с собой. Ещё придём)
Ricco Eberhard
26. August, 2022.
Great food! However, beware of the spicy thai salad! It really is easy insanely spicy and I even said 'medium spicy'